Aug 31st (Tuesday)

20:00-21:15 (Beijing/Singapore) / 15:00-16:15 (Israel) / 8:00-9:15 AM (New York) / 13:00-14:15 (London)
Topic: Clinical and Translational Research in Optic Neuropathy
Meeting ID: 833 2237 7549
Password: 0831
Program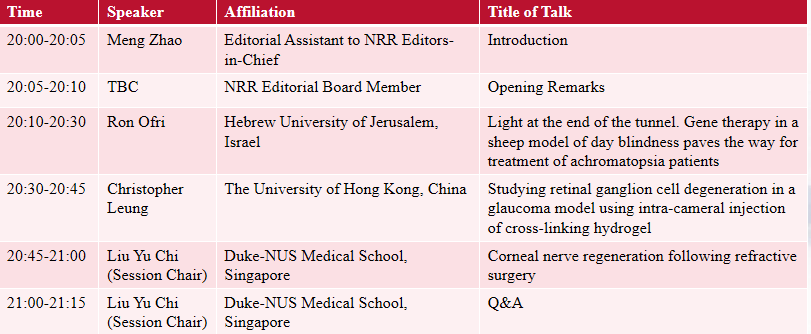 Speakers: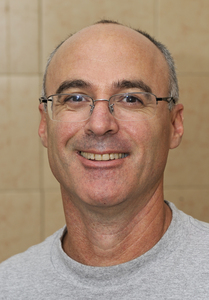 Prof. Ron Ofri
Professor
Koret School of Veterinary Medicine
Hebrew University of Jerusalem
ISRAEL
Speech Title: Light at the end of the tunnel. Gene therapy in a sheep model of day blindness paves the way for treatment of achromatopsia patients
About the speaker:
Prof. Ron Ofri was a member of the charter class of the Koret School of Veterinary Medicine, Hebrew University of Jerusalem, Israel. Upon his graduation he traveled to the University of Florida, where he spent the next 4 years undergoing clinical training in veterinary ophthalmology and obtaining his Ph.D. During this time Ron developed an interest in the physiology of vision, focusing on retinal electrophysiology and animal models of retinal diseases. Upon his graduation Ron returned to Israel and joined the faculty of his alma mater, where he is currently a Professor in veterinary ophthalmology and winner of numerous Teacher of the Year awards. At the Hebrew University of Jerusalem, Ron expanded his research interests to include to include clinical veterinary ophthalmology (focusing on glauocoma and retinal diseases) and retinal gene therpay. His groundbreaking work on retinal gene therapy on a herd of sheep with naturally occuring day blindness has resulted in restoration of vision in treated animals for >6 years, and has paved the way to FDA approval of Phase I/IIa clinical trials in humans patients.
Ron is also a very popular international speaker, having been invited to talk in more than 40 countries and 6 continents, lecturing in continuing education seminars, national meetings and world congresses for general practitioners, including BSAVA, SEVC, WSAVA, WVC and NAVC. He also lectures frequently in advanced training courses for veterinary ophthalmologists, including lectureship at the Basic Science Course of the American College of Veterinary Ophthalmologists (where he has been speaking since 2002) and numerous other forums.
Ron has published more than 90 peer-reviewed papers, is a contributing author to the Gelatt's classic textbook Veterinary Ophthalmology (3rd, 4th, 5th and 6th editions) as well as a co-author of the popular textbook Slatter's Fundamentals of Veterinary Ophthalmology (4th, 5th and 6th editions).
Lab link: https://en.vetschool.agri.huji.ac.il/ron-ofri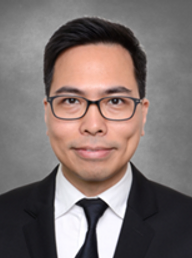 Prof. Christopher Leung
Principal Investigator
Clinical Professor
Glaucoma and Optic Nerve Diagnostics Lab
Department of Ophthalmology
LKS Faculty of Medicine, The University of Hong Kong, China
Speech Title: Studying retinal ganglion cell degeneration in a glaucoma model using intra-cameral injection of cross-linking hydrogel
About the speaker:
Prof Christopher Leung is a clinician-scientist with research focus on glaucoma investigation and management. He was awarded the Chevening Postgraduate Scholarship in 1996 to study molecular medicine at the Imperial College London and the Croucher Foundation Fellowship in 2006 to complete a clinical and research fellowship in glaucoma at the Hamilton Glaucoma Center, the University of California, San Diego (UCSD).
Prof Leung is Section Editor of British Journal of Ophthalmology, Contributing Editor of International Glaucoma Review, Editorial Board Member of Ophthalmic Epidemiology, Translational Vision Science & Technology, and Ocular Surgery News (Asia Pacific Edition), and reviewer of over 30 peer-reviewed scientific journals.
Research Areas
1.Application of advanced imaging technologies for early detection and monitoring of glaucoma.
2.Investigation of new laser procedures and surgical devices for lowering the intraocular pressure
3.Development of new therapies to protect and regenerate retinal ganglion cells in glaucoma and other optic neuropathies.
Lab link: https://www.ophthalmology.hku.hk/gond-lab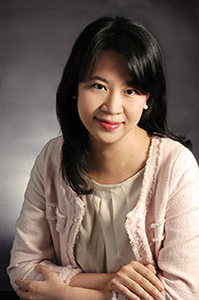 Yu-Chi Liu (Session Chair)
Clinician Scientist
Singapore National Eye Centre/Singapore Eye Research Institute
Clinician
Cornea and External Eye Disease Department, Singapore NationalEye Centre
Assistant Professor
Duke-NUS Medical School, Singapore
Speech Title: Corneal nerve regeneration following refractive surgery
About the speaker:
Dr Liu's clinical and research interests are in the areas of corneal diseases, corneal transplantation and refractive surgery. She is the author of the international textbooks on Cornea and Refractive surgery, and the editor and reviewer of ophthalmology journals. She has published more than 45 papers spanning from clinical studies to translational research in peer-reviewed, international journals, including one publication in the prestigious journal "Lancet". Dr Liu also has given more than 50 invited talks or presentations in international meetings.
Dr Liu has been awarded multiple research grants from the National Medical Research Council, SingHealth, NUS and Duke-NUS Medical School. She also actively mentors medical students, residents and fellows and currently holds the appointment as Instructor at the Duke-NUS Medical School.
Lab link: https://www.snec.com.sg/profile/liu-yu-chi