NRR Series Free Webinar:
Title: Tissue Engineering for Neural Regeneration
Date and Time: 28 JUNE 2022, TUESDAY
20:30-21:35 (Beijing) / 13:30-14:35 (London) / 8:30-9:35 (Florida)
ZOOM Meeting ID: 845 8732 4047
Password: 0628
PROGRAM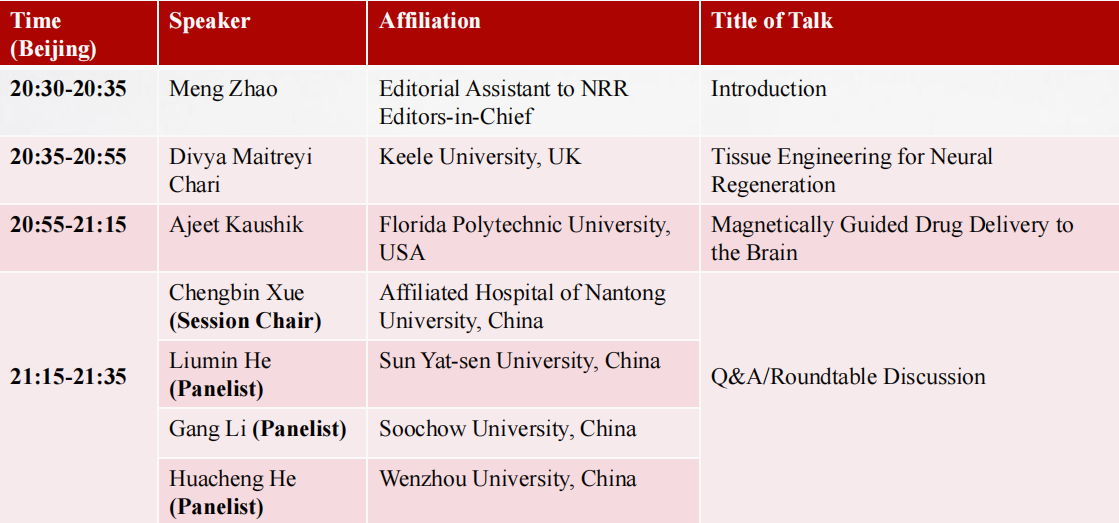 INVITED SPEAKERS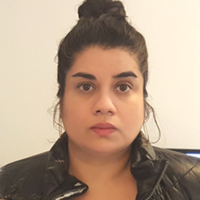 Name: Divya Maitreyi Chari, PhD, Professor.
Institution: Neural Tissue Engineering, School of Medicine, Faculty of Medicine and Health Sciences, Keele University, UK.
Speech title: Tissue Engineering for Neural Regeneration
About the speaker:
Divya Maitreyi Chari, PhD, is a Professor of Neural Tissue Engineering, School of Medicine (Faculty of Medicine and Health Sciences), Keele University
She studies REGENERATIVE MEDICINE including
1.Stem cell sprays for neurological injuries.
2. Development of electroactive hybrid materials for neural repair.
3. Use of novel biomedical engineering strategies such as magnetic nanoparticles, implantable hydrogels and neural cell seeded polymer scaffolds to promote neural regeneration.
4. Development of in vitro neural injury models to reduce reliance on live animal experiments.
5. Investigation into the molecular effects of immunotherapies on neural development,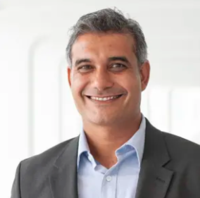 Name: Ajeet Kaushik, PhD, Assistant Professor
Institution: NanoBioTech Laboratory, Health Systems Engineering, Department of Environmental Engineering, Florida Polytechnic University, USA.
Speech title: Magnetically Guided Drug Delivery to the Brain
About the speaker:
Presently, Dr. Kaushik, as an Assistant Professor of Chemistry, is exploring advanced electrochemical sensing systems and nanomedicine for personalized health wellness at Department of Natural Sciences of Division of Sciences, Art, & Mathematics at Florida Polytechnic University.
He is the recipient of various reputed awards for his service in the area of nano-biotechnology for health care. His excellent research credentials reflect by his four edited books, 100 international research peer reviewed publications, and three patents in the area of nanomedicine and smart biosensors for personalized health care. In the course of his research, Dr. Kaushik has been engaged in design and development of various electro-active nanostructures for electrochemical biosensor and nano-medicine for health care. His research interests include nano-bio-technology, analytical systems, design and develop nanostructures, nano-carries for drug delivery, nano-therapeutics for CNS diseases, on-demand site-specific release of therapeutic agents, exploring personalized nano-medicines, biosensors, point-of-care sensing devices, and related areas of health care monitoring.
SESSION CHAIR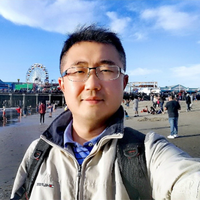 Chengbin Xue, MD, PhD, Research Associate
Affiliated Hospital of Nantong University, China
About the session chair:
Dr. Xue comes from Jiangsu Clinical Medicine Center of Tissue Engineering and Nerve Injury Repair, Research Center of Clinical Medicine, Affiliated Hospital of Nantong University, Key Laboratory of Neuroregeneration of Jiangsu and Ministry of Education, Co-innovation Center of Neuroregeneration, NMPA Key Laboratory for Research and Evaluation of Tissue Engineering Technology Products, Nantong University. He was the visiting scholar of California NanoSystems Institute at UCLA, and Cincinnati Children's Medical Center. He mainly focused on the research of cellular & cell matrix based tissue engineered nerve graft, the application of injectable shear-thinning biological materials in tissue engineering, drug delivery and release. At present, his research interest is the development of pre-vascular neural tissue engineering technique and related basic research supported by the National Natural Science Foundation of China.
PANELISTS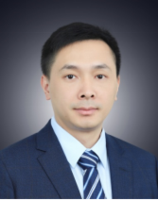 Dr. Liumin He, PhD
Professor in Department of Spine Surgery, The 3rd Affiliated Hospital,
Sun Yat-sen University, China
About the panelist:
Dr. He is the laureate of the Guangdong Science Foundation For Distinguished Young Scholars, Guangdong special branch plans young talent with scientific and technological innovation, and Pearl River Nova of Guangzhou. He focus on nerve tissue engineering, and has cumulative scientific research and clinical transformation of biomimetic materials for neural regeneration.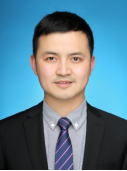 Dr. Gang Li, PhD
Professor, Dean Assistant, Lab Director, National Engineering Laboratory for Modern Silk, College of Textile and Clothing Engineering, Soochow University, China
About the panelist:
Prof. Gang Li is currently a full professor at the National Engineering Laboratory for Modern Silk, Soochow University, China. Dr. Li is the 15th high level talent of "Top six talent peaks" and selected talent of "Double Creative Plan" in Jiangsu province of China. Dr. Li received his MEng. from Donghua University in China, and obtained his Ph.D. in Biomedical textiles and Engineering from the Hong Kong Polytechnic University. He is also a visiting professor of Tufts University in USA (Prof. David Kaplan's team). Prior to his current academic position, Dr. Li has been served at DuPont China Holding Co., Ltd. in Shanghai for several years. Dr. Li published over 100 academic articles and issued 70 patents between 2006 and 2022, including Biomaterials, Bioactive materials, Advanced Functional Materials, etc. His H-index is 22 and i10 index is 40. Dr. Li presented talks, organized symposia and workshops at various international scientific conferences, etc. Dr. Li's research interests focus on silk biomaterials, functional and smart biomedical textiles. (http://web.suda.edu.cn/tcligang/)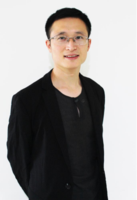 Dr. Huacheng He, PhD
Associate Professor
Wenzhou University, China
About the panelist:
Huacheng He, PhD, Associate Professor at Wenzhou University. His research interests mainly focus on the development of advanced functional biomaterials for the therapies of skin wounds and spinal cord injury. He has authored more than 30 papers in Adv. Sci, Coord. Chem. Rev., Biomaterials, Chem. Eng. J., Appl. Mater. Today and other peer-reviewed international journals. He has received several national and provincial grants for his work.