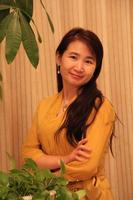 朱䒟
教授 博士生导师 硕士生导师
性别:女
在职信息:在职
所在单位:武汉光电国家研究中心
学历:研究生(博士)毕业
学位:博士学位
毕业院校:华中科技大学
关于演讲人:
朱䒟教授是华中科技大学特聘教授; 武汉光电国家实验室副主任。
她的研究兴趣主要集中在组织光学透明成像和应用方面。
她撰写了 150 多篇论文,发表期刊包括 Science Advances, Nature Communications 等。
朱䒟教授还是SPIE会士,中国光学学会生物医学光子学委员会秘书长兼副会长。担任多本国际期刊编委或客座编辑,包括Biomedical Optics Express, Journal of Biomedical Optics, Scientific Reports, Journal of Innovative Optical Health Sciences, Frontier of Optoelectronics等。
Selected Recent Publications:
Fang C, Yu T, Chu T, Feng W, Zhao F, Wang X, Huang Y, Li Y, Wan P, Mei W, Zhu D, Fei P (2021) Minutes-timescale 3D isotropic imaging of entire organs at subcellular resolution by content-aware compressed-sensing light-sheet microscopy. Nat Commun 12:107.
Zhu J, Yu T, Li Y, Xu J, Qi Y, Yao Y, Ma Y, Wan P, Chen Z, Li X, Gong H, Luo Q, Zhu D (2020) MACS: Rapid Aqueous Clearing System for 3D Mapping of Intact Organs. Adv Sci (Weinh) 7:1903185.
Qi Y, Yu T, Xu J, Wan P, Ma Y, Zhu J, Li Y, Gong H, Luo Q, Zhu D (2019) FDISCO: Advanced solvent-based clearing method for imaging whole organs. Sci Adv 5:eaau8355.
Nie J, Liu S, Yu T, Li Y, Ping J, Wan P, Zhao F, Huang Y, Mei W, Zeng S, Zhu D, Fei P (2019) Fast, 3D Isotropic Imaging of Whole Mouse Brain Using Multiangle-Resolved Subvoxel SPIM. Adv Sci (Weinh) 7:1901891.
Zhao YJ, Yu TT, Zhang C, Li Z, Luo QM, Xu TH, Zhu D (2018) Skull optical clearing window for in vivo imaging of the mouse cortex at synaptic resolution. Light Sci Appl 7:17153.