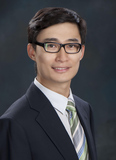 Zheng Wang, PhD
助理教授
Frost初级研究员
计算机科学系
癌症表观遗传学项目 - Sylvester 综合癌症中心
迈阿密大学,美国
关于演讲人:
Zheng Wang博士是迈阿密大学计算机科学系的助理教授,他还在生物学系任职,且是迈阿密大学Sylvester综合癌症中心癌症表观遗传学项目的成员。 Zheng Wang博士实验室的研究方向为生物信息学,特别是3D基因组分析、蛋白质结构预测、蛋白质功能预测和生物网络分析。
Selected Recent Publications:
Peng WX, Koirala P, Zhang W, Ni C, Wang Z, Yang L, Mo YY (2020) lncRNA RMST Enhances DNMT3 Expression through Interaction with HuR. Mol Ther 28:9-18.
Zhou N, Jiang Y, Bergquist TR, Lee AJ, Kacsoh BZ, Crocker AW, Lewis KA, Georghiou G, Nguyen HN, Hamid MN, Davis L, Dogan T, Atalay V, Rifaioglu AS, Dalkıran A, Atalay RC, Zhang C, Hurto RL, Freddolino PL, Zhang Y, et al. (2019) The CAFA challenge reports improved protein function prediction and new functional annotations for hundreds of genes through experimental screens. Genome Biol 20:244.
Palmisano I, Danzi MC, Hutson TH, Zhou L, McLachlan E, Serger E, Shkura K, Srivastava PK, Hervera A, Neill NO, Liu T, Dhrif H, Wang Z, Kubat M, Wuchty S, Merkenschlager M, Levi L, Elliott E, Bixby JL, Lemmon VP, Di Giovanni S (2019) Epigenomic signatures underpin the axonal regenerative ability of dorsal root ganglia sensory neurons. Nat Neurosci 22:1913-1924.