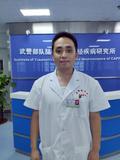 Xuyi Chen
主治医师、副教授
武警特色医学中心,脊髓脊柱外科
天津,中国
擅长
脊柱脊髓疾病的诊治,脊柱裂。
简介
陈旭义,显微神经外科技术治疗脊柱裂、脊髓拴系;显微微创技术治疗颈椎病、腰骶痛(包括间盘突出,椎管狭窄及不稳的前后路减压固定等);创伤性脊柱脊髓损伤;椎管内髓内外肿瘤、椎管囊肿;脊髓空洞症;脑瘫的SPR手术;痉挛性斜颈的显微选择性神经切断的治疗;脊柱侧弯的矫形及椎体成形术等。
近年发表文章
1. Jianlong Wang, Xuyi Chen, Haijuan Hu, Mengting Yao, Yanbiao Song, Aimin Yang, Xiuhua Xu, Ning Zhang, Jianzhao Gao, Bin Liu. PCAT-1 facilitates breast cancer progression via binding to RACK1 and enhancing oxygen-independent stability of HIF-1α. Mol Ther Nucleic Acids. 2021 Mar 3;24:310-324.
2. Huiling Tang, Siru Qin, Wei Li, Xuyi Chen, Luis Ulloa, Qiumei Zhu, Baohu Liu, Yinan Gong, Yadan Zhao, Songtao Wang, Shanshan Li, Yongming Guo, Zhifang Xu, Yi Guo. P2RX7 in Dopaminergic Neurons of Ventral Periaqueductal Gray Mediates HTWP Acupuncture-Induced Consciousness in Traumatic Brain Injury. Front Cell Neurosci. 2021 Jan 13;14:598198.
3. Jipeng Jiang, Chen Dai, Xiaoyin Liu, Lujia Dai, Ruixin Li, Ke Ma, Huiyou Xu, Fei Zhao, Zhiwen Zhang, Tao He, Xuegang Niu, Xuyi Chen, Sai Zhang. Implantation of regenerative complexes in traumatic brain injury canine models enhances the reconstruction of neural networks and motor function recovery. Theranostics. 2021 Jan 1;11(2):768-788.
4. Jian Zhang, Xiaoyin Liu, Ke Ma, Miao Chen, Huiyou Xu, Xuegang Niu, Haoran Gu, Renjie Wang, Xuyi Chen, HongTao Sun. Collagen/heparin scaffold combined with vascular endothelial growth factor promotes the repair of neurological function in rats with traumatic brain injury. Biomater Sci. 2021 Feb 7;9(3):745-764.
5. Ke Ma, Huiyou Xu, Jian Zhang, Fei Zhao, Haiqian Liang, Hongtao Sun, Ping Li, Sai Zhang, Renjie Wang, Xuyi Chen. Insulin-like growth factor-1 enhances neuroprotective effects of neural stem cell exosomes after spinal cord injury via an miR-219a-2-3p/YY1 mechanism. Aging (Albany NY). 2019 Dec 17;11(24):12278-12294.